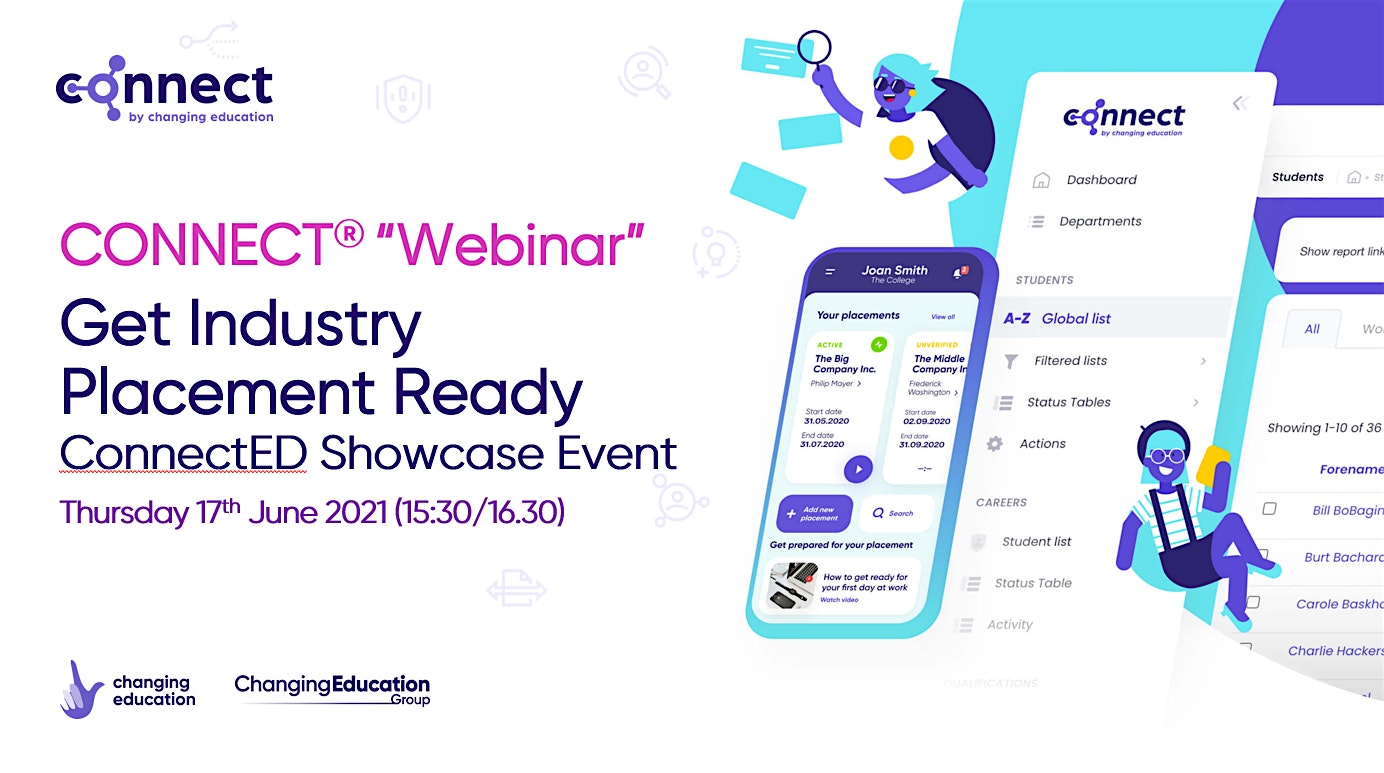 Get Industry Placement Ready – ConnectED Showcase Event
Get Industry Placement Ready – ConnectED Showcase Event
Supporting you as your students return to work placements.
Greetings from the Changing Education Team,
The post-pandemic world is going to be even more difficult for students to leave education, and work experience will be a valuable tool in their journey into further education and the workplace. So, We hope it'll take some weight from your shoulders to know that we can offer all the work placement support you need.
Don't worry we have the solution!
Fortunately, we're here to take the burden. We can get your work placement and careers programme up and running, provide guidance on Ofsted, Gatsby, and Compass+ integration, risk management, and employer engagement while tracking and reporting on everything you and your students need.
The Changing Education Group is excited to showcase the CONNECT Web Platform, Mobile Application, and API as the digital centralised solution to get you placement ready.
Why should I watch the video?
Support your entire work placement programme.
– Get Industry Placement Ready (Classic Work Experience, T Level/CDF).
– Get students re-engaged with external work-based learning.
– Go paperless, delete the spreadsheets and reduce administrative workload.
– One centralised system.
– Digital solution to make remote working easy.
– Enhance your business development interactions.
– Match your students with employers.
– Provide an online dashboard with everything you need to meet Ofsted, Gatsby, and Compass+ requirements.
– Give your students an app to help them find their placement, log their experience and develop a CV (UCAS Statements).
– Allow you to track and report on placement and career interactions and their outcomes.
How do we understand your need?
The Changing Education Group has been bringing employers, educators, and students together for twelve years. Over that time, we have created half a million work placements. We offer personal advice and support and have also created CONNECT software for staff and a mobile app for students, linked to your reporting dashboard, to take all the strain for you. In fact, a silver lining during the pandemic has been the addition of virtual work experience programmes and our Bespoke Programme Builder functionality that meet all the Ofsted and Gatsby requirements.
We have recently published some thought pieces on work experience and wider careers provision as part of our thought leader series which can be found here and here.
In the meantime, please do contact us at info@changingeducation.co.uk with any questions.
We would really love to help your students take their first step into the workplace while saving you a huge amount of time and stress.
We have received your contact details and request.
We are now reviewing it and will get
back to you within 48 hours.