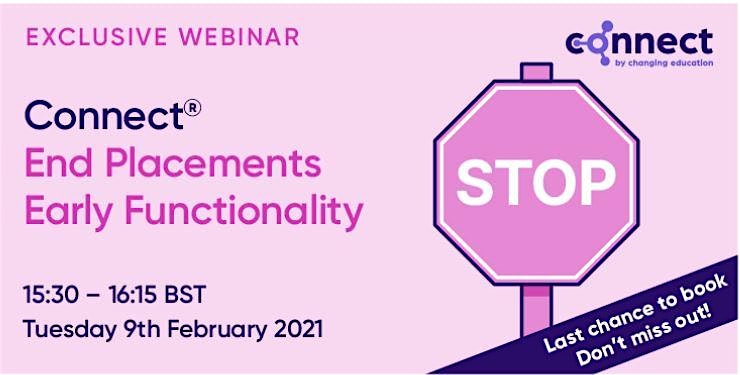 CONNECT – End Placements Early Functionality
CONNECT – End Placements Early
This is your opportunity to learn more about the Connect Software functionality, including key developments which have been designed to enhance the user journey. Through our market research phase, we have improved user functionality.
Why should I watch the video?
This week's webinar will focus on end placement early functionality. We will explore how staff can tag a placement as ending early with clear justification and actual hours completed. The session will also focus on the functionality that enables staff to mark placements as not starting or the student failed to attend to ensure placement activity reporting is concise.
Key Points:
1. How to mark placement as "ending early"
2. How to mark placement as "did not start"
3. How to mark placement as a "student did not attend"
4. How to reinstate the affected placement
5. How to report on affected placements
6. How to update placement attendance/hours on affected placements
7. How to export affected placement data
8. Placement Creation Timeline
We have received your contact details and request.
We are now reviewing it and will get
back to you within 48 hours.